The colour palette for the winter in 2019/2020
In terms of colours, the upcoming winter season is definitely more toned down than what was popular last year. The colour palette is refined and less flashy. Strong, contrasting (often even neon) colours have been replaced by more elegant shades. This does not mean, however, that all colours are now either beige or grey! Orange still reigns at fashion shows, but now in a more subdued, pastel version. Monochrome sets are also still a hit.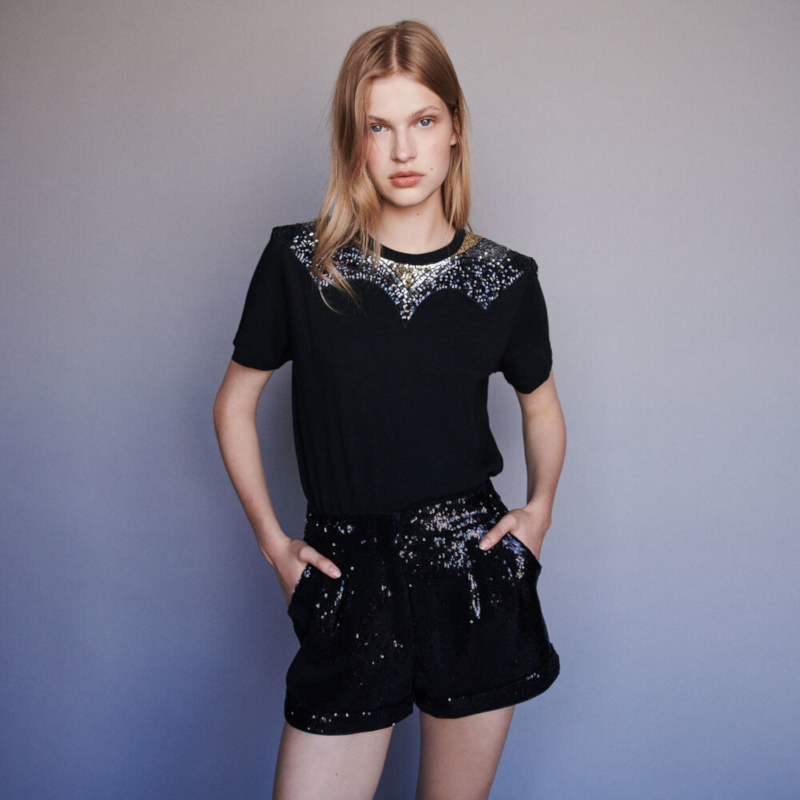 Maje fashion
The belt - the most popular accessory in the 2019/2020 season
The accessory that absolutely reigns in the 2019/2020 winter season is the belt. A strongly emphasized waist appears in every collection. Belts, used to emphasize the waist, can be narrow, wide, tied several times, made from classic leather, shiny, or lined with beads. You can put a belt on dresses, skirts, pants, overalls, jackets and even coats!
Female figure
The trend of the emphasised waist is also associated with the figure which most often appears in collections for the winter of 2019/2020. A very feminine silhouette, with accented hips, forming an hourglass figure, is now in fashion. Therefore, flared, tight at the waist skirts are also in style. Classic checkered knee-length skirts have returned, but there are also new versions of the classics: flared skirts in strong, styling-breaking colours are becoming very popular.
Which winter jacket should you choose?
In the 2019/2020 winter season we can talk about two absolute hits among outerwear. The first is oversized, long coats. Large and wide coats in muted colours are worn nonchalantly, in a Parisian style. The men's cut looks good with longer skirts and dresses, but also with fashionable mum jeans.
Plush jackets and coats, also called teddy bears or lambs, are another hit. Soft and very cosy jackets and coats now appear in various shades of beige, brown and black, as well as delicate shades of pink or mustard.
What can you not miss in your wardrobe in the winter?
If you want to add new, fashionable accessories to your wardrobe this winter, now you have a great opportunity. Maje UK, an online clothing store, offers its customers up to 50% off on trendy clothing, shoes and accessories. It's also a good opportunity to stock up on Christmas presents for your friends and family.